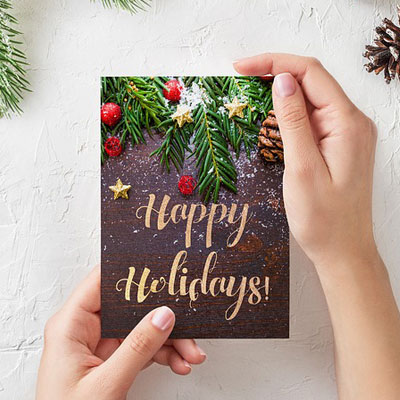 Christmas is almost is here!
As usual Christmas this year has come around so quickly and once again it is time to get those Christmas cards all written up and sent out to your family, friends and business associates.
Never before have there been so many options for Christmas Greeting Cards. The Internet has made the task of choosing, buying and personalizing holiday cards so much easier.
This is great because with so many other things to get organised during the busy festive season at least taking care of the Christmas card side of things is easier and faster.
Just look at all these choices when it comes to holiday cards.
You can:
Choose and purchase ready made cards from many online stores.
Have personalized Christmas cards printed up with your photos and message.
Purchase craft items to make your own Christmas cards.
Browse online card catalogues and order large print runs for
corporate and business needs.
Design your own cards using special software.
Send Christmas e cards
Download and print free printable Christmas cards.
This website is here to be a helpful resource during the Christmas holiday season. Use it to assist you with finding the perfect Christmas cards for your needs.
Whether you want religious Christmas cards or funny Christmas cards, photo cards, themed cards or to design and make your own holiday cards you will find loads of information here.
If you are looking for information about choosing, writing and sending business Christmas cards to corporate colleagues then you will find lots of information about these types of greeting cards in our Corporate Christmas Cards section.
Remember to enjoy the season and have a Merry Christmas!!!