The Beginning Of Christmas Card Giving
While looking through some old publications I came across this little piece which I found was an interesting bit of greeting card history showing the start of the tradition of Christmas card giving.
This quote has been taken from the publication:
St. Nicholas, Vol. 5, No. 2, December, 1877
"There is a beautiful custom in England which is to be hoped will yet become general in America of sending around Christmas cards, dainty things with lovely pictures and hearty verses upon them. Friends and lovers send them to one another, children send them to their parents, parents to their children, and the postman, as he flies from house to house, fairly glows with loving messages.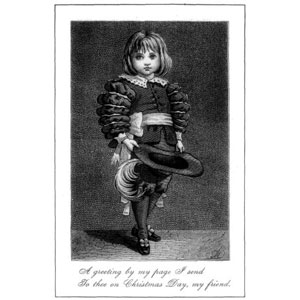 And now ST. NICHOLAS presents to one and all the sweet little card (pictured here), which was drawn by Miss L. Greenaway, a London artist, who has drawn many beautiful pictures of child-life."