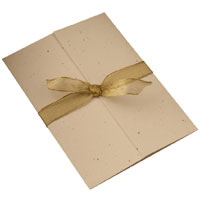 What do I need to consider when choosing wedding invitations for my wedding day?
Before you choose your wedding invitations it is a good idea to make a guest list. This will enable you to find out how many invitations you will require and therefore help you decide on a budget so that you know what price ranges you should be looking at.
The wedding invitation will be the first thing that your guests will see regarding your wedding. It will set the tone for the formality of the day. Ensure you make a good first impression by choosing beautiful, quality invitations to match the style or theme of your wedding day.
How many invitations will I need?
1 invitation per couple
1 invitation per family
1 invitation per single person
Do I need to include an RSVP card?
This is optional. It is a good idea though because it makes it easier for your guests to reply.
When should I send out my wedding invitations?
Send out your wedding invitations so that your guests receive them no later than 6 weeks before the wedding.
What about long distance guests?
If any of your guests are coming from out of town or overseas you will need to send out your wedding invitations earlier. Allow extra postage time for the invitation to reach them and also ensure that your guests have adequate notice to make transport and accommodation arrangements especially if they are coming from overseas. Your long distance guests should receive their invitations at least 8 weeks before the RSVP date.
Invitation wording tips?
There are many different formats of wedding invitation wording depending on who is doing the inviting and the formality of the day. Whatever wording you choose, make sure you ask someone to read through it to double check it for any errors before you submit it for printing.